Available for:
. Web-App
Importing your data is easier than ever on Wallet's web version. Simply enter your credentials to log into your Wallet account on our Web app.
You'll see an option menu at the top of your screen. Click on Imports. Now, at the top of the screen, click to choose into which account you'd like to import your file. As indicated in the top left corner of this screen, you can choose a file from your computer or drag and drop a file.
What form can my Import file be in?
When you have chosen your file, Wallet will take you through these setup steps.
Step 1: Does your file have a Header row? This is usually row 1, which shows the column titles such as Date, Name, Memo, Amount, etc. Set your header row if your file has one and click Next.
Step 2: Which is your Amount column? Make sure Wallet has highlighted the correct column and click Next.
Step 3: Which is your Date column? Make sure Wallet has highlighted the correct Date column and click Next.
Step 4: You can identify additional columns in your file; then click Preview. *This step is important, as it may help Wallet categorize your Records more accurately.*
You are ready to import your file! The next time you import a file, if everything is ok, Wallet will simply display the Preview for you to accept.
*Note: To edit your Records, click on Records in the option menu along the left side of your screen. You can select one or multiple Records to edit; you will see your editing options along the right side of your screen.
*Note: To delete your Import file and all Records, simply click on the down arrow next to the file name. Click delete, then confirm. Your file and all Records from that file will be deleted!
Example Import file: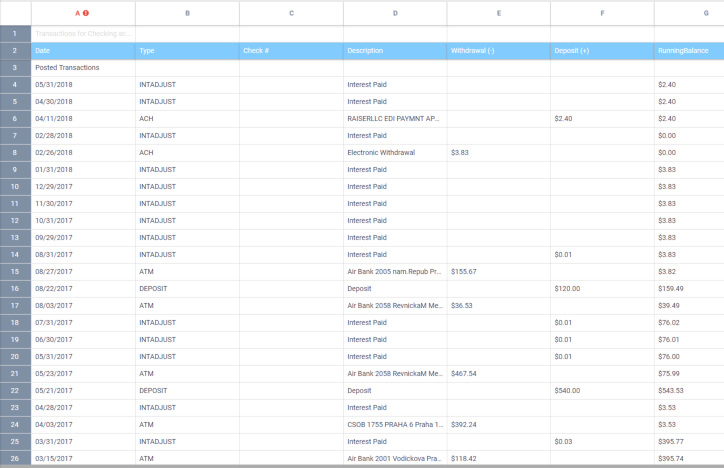 If you find that your data has not been imported the way you wanted, we suggest that you delete the imported file and start over again.
To delete the imported file:
Go to Imports in the side menu.
From the list of Accounts, tap on the name of the Account you want to delete the file from.
You'll see a list of imported files. Open the panel with the file you wish to delete and click on the Delete icon above.
Wallet will ask you if you wish to delete only records or also a file. Choose accordingly.
Note: Remember that once you choose an option to delete records including the file, all the records that were created from it will be deleted from Wallet as well as the file.